Best Practice in Care October Feature – Being carer aware
Written by Ilsa Bird, Sector Support Coordinator
Carer's Week will be taking place from 13-19 October so this month we have developed a resource to help frontline staff and providers to better support informal carers.
An informal carer includes any person, such as a family member, friend or neighbour, who is giving regular, ongoing assistance to another person without payment for the care given (AIHW). Informal carers play an important role in ensuring best practice care for clients. It is important that frontline staff assess the needs and desires of carers and engage them in planning for their loved ones. Below are the stories of three different informal carers who share some of the challenges they have faced and strategies for best practice care.
(Please note that names have been changed to protect anonymity)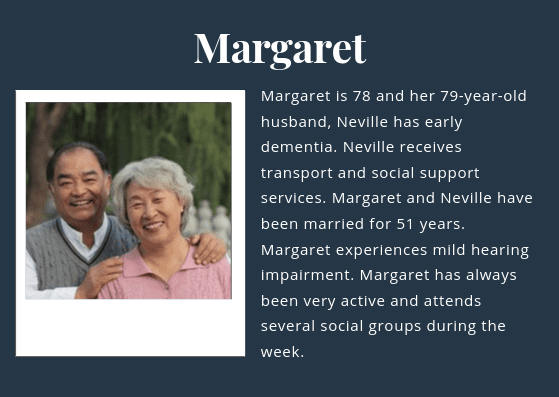 What is important in order to build trust with care staff?
"Understand the needs. Neville has dementia so if staff are late, this can be very distressing for him as he really needs routine. I want to have the peace of mind that staff understand my husband, so I can trust them to keep him happy and safe. Trust allows me to do my own thing and have some time to myself".
What can service providers do to support carers in care planning?
"The journey for a carer is an emotional one and it is difficult to navigate the system. It is good to have written information to read later because you're not always in the frame of mind to process things during meetings. Also consider some the physical needs of the carer, my hearing isn't very good, so I really prefer written information."
What are the challenges you faced in working with service providers?
"Caring relationships look different for everyone. I felt my opinion wasn't always valued as I was not a family member despite having worked in hospitals and community health for over 40 years. I sometimes felt that staff assumed they knew best. I suggested that they make a call on the morning they were coming because if they called the day before then Arthur might forget. They wanted to make the call the day before to allow more time if changes needed to be made."
How can providers best support informal carers?
"It is also important to do what you say you will, that there is clear communication. For example, Arthur had two bathrooms and although the staff said they would clean the bathrooms, it wasn't clear to me that they only meant one bathroom. I didn't really know what questions I needed to ask to clarify, so it would've been helpful to have some support and guidance when I was confused."
What are the challenges you faced in building relationship with staff?
"Consistency was quite a challenge. Some staff were very open to listening and some seemed to take this as I was complaining. I wanted to be listened to because I know mum best and know what she likes and needs. I was making suggestions that were constructive and not criticising the staff. This is why it is important to build a relationship with carers and well as the client, so you can get the full picture about the care."
How does communication support informal carers and family?
"Communication is very important, especially the little things. For example, if mum didn't take her medication, they would let me know so that I could try and get her to take it when I arrived later. It's a team effort really. It's also important to understand what it means to be a carer. I also have my own life and kids that I am juggling on top of organising care for mum, that can be extremely stressful. Communication helps to relieve some of this stress, worrying if mum has had her medication."
Summary
Each informal caring relationship will be different, and it is important to understand the carer perspective to build relationship and trust with clients and their family and informal carers.
Services that Support Carers and the people they care for:
CHSP Flexible Respite
Emergency Respite available through the CRCC. Funding for CRCC has been extended until May 2020.  Phone Number:  1800 052 222.
Integrated Carer Support Services (ICSS) – From April next year, Your Side will be entering into a new partnership with the Benevolent Society to deliver the Integrated Carer Support Service (ICSS).  Under the ICSS, carers will be introduced to a range of tailored supports and services to help them manage their daily challenges, reduce stress and plan for the future. This new model will enable Your Side to continue serving carers in the Northern Sydney Region as well as the greater Sydney Region. New services will commence in April 2020. For more information about the ICSS, you can download the fact sheet here.
Resources
For more information, download our 'Tips to be Carer Aware' or book an Understanding and Supporting Carers education session through Carer's NSW.