Royal Commission Interim Report Summary – Part Two
Written by Ilsa Bird, Sector Support Coordinator
"Major change is necessary to deliver the certainty and working environment that staff need to deliver great quality care."

– Commissioners Richard Tracey AM, RFD, QC and Lynelle Briggs AO
The Royal Commission Interim Report was released on October 31, 2019 and outlines the themes and findings from hearings, consultation and evidence submissions between February to September 2019. The Report is titled 'Neglect' and "sets out the extent of the failure of Australia's aged care services and what the Royal Commission has learned to date".
How will the Royal Commission impact me or my organisation?
It is inevitable that the Royal Commission into aged care will bring change. It is recommended that providers (including CHSP providers) pre-empt changes and plan for potential scenarios. Below we have gathered some of the themes that have been addressed so far as well as potential scenarios and recommendations for providers.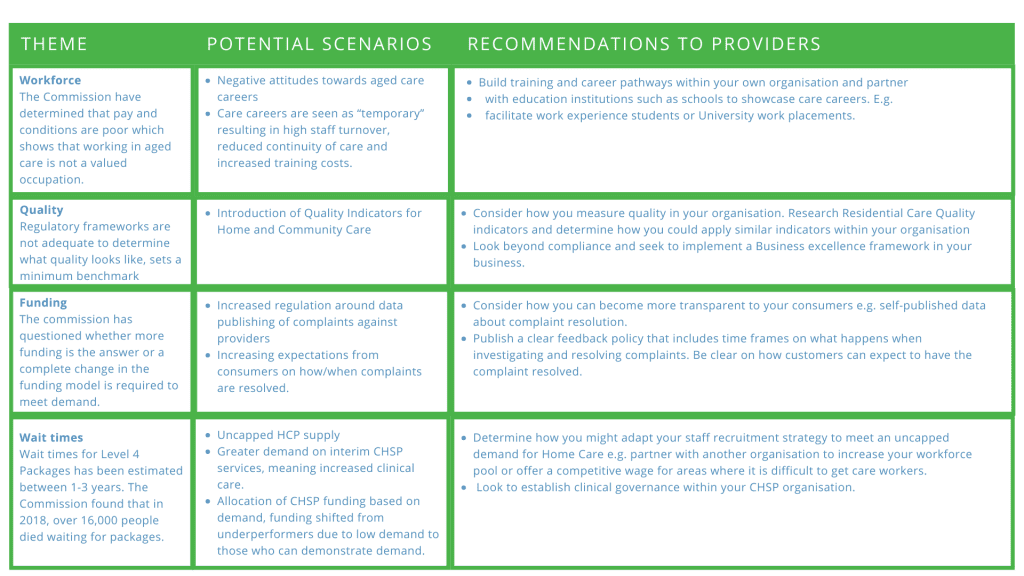 The Royal Commission's Final Report will be handed to the Governor-General on 12 November 2020. According to the Interim Report Media Release, this report will "set the framework for a complete overhaul of the aged care system — from system philosophy and design, to interactions with health and disability services, to workforce, funding and regulation."
Download a PDF version of the table here
The Interim report includes three volumes which can be downloaded below:
Volume 1: contains key information about aged care and conclusions the Commissioners have reached over the course of hearings during 2019. Key themes addressed in Volume 1 include:
Download here: interim-report-volume-1
Volume 2: contains detailed overviews of the public hearings from February up to and including hearings in Darwin and Cairns in July 2019, including the Royal Commission's findings in case studies conducted at those hearings.
Download here: interim-report-volume-2
Volume 3: contains several appendices, including summaries of the nine community forums the Royal Commission has held throughout Australia since February.
Download here: interim-report-volume-3
Royal Commission Consultation Paper: Aged Care Program Redesign
The Royal Commission released a consultation in early December that outlines recommendations for the future of the aged care sector. The paper discusses the redesign of aged care programs relative to regulation, financing and customer experience.  Read more.