Best Practice in Care June Feature – Aged Care Career Development
Written By Ilsa Bird, Sector Support Coordinator
Whether you are new to the sector or you are an aged care veteran, this article supports aged care staff to develop a sustainable and successful career. Below you will find information about the sector, a guide to career pathways, resources for up-skilling and tips to cope with workplace stress.
Information I need to know
If you are new to aged care, you may be wondering what is ahead for you and your career. According to training.com.au, there are five things that you need to know about a career in aged care:
There is plenty of opportunity and high demand for staff
Roles are varied and vast from catering to administration as well as care work.
The sector is rewarding but challenging due to both physical and emotional demands
There are ideal skills and attributes required in aged care including communication skills, patience, discretion and physical fitness
You will be making a difference in someone's life by allowing them to maintain independence and support better quality of life
For more information, the full article can be viewed here: https://www.training.com.au/ed/5-things-know-career-aged-care/
Career development
There are several exciting and fulfilling career pathways available in the aged care sector. Below is an example of career pathways in both the aged care and disability sector beginning with Certificate III courses and progressing to tertiary education. This resource highlights how skills and qualifications are highly transferable between roles within the different areas of social services including aged care, community services and disability.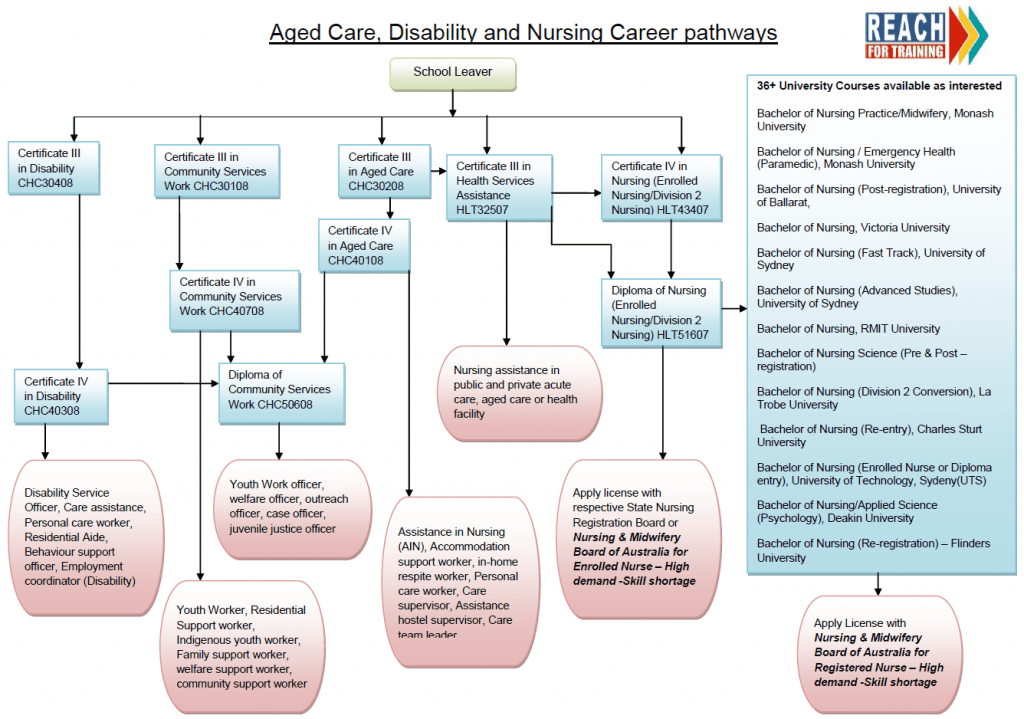 Source: Reach for Training Download a PDF version of the pathways here
Personal care workers and AINs can undertake further training which can lead to roles such as leisure and lifestyle coordinator, facility manager or registered nurse. Newly.com.au provides a profile of each of these roles and training required for each. You can access the full article about career development for PCAs and AINs here: https://about.newly.com.au/2015/10/30/5-career-pathways-for-pcasains-in-aged-care/
There are currently well over 400,000 people living with dementia and this is expected to increase to over 1 million by the year 2058. This means there will be high demand for aged care workers with specialised dementia skills. If you are interested in pursuing a career related to dementia care, the University of Tasmania has a learning pathway for dementia care qualifications. A 100% HECS scholarship is available for the Diploma of Dementia Care. Information about all courses is available here: https://www.utas.edu.au/wicking
Up-skilling and training
If you want to develop your aged care career, professional development provides an opportunity to increase your knowledge and skills which makes you more employable. Below are some courses that are available for aged care staff.
Download the PDF version here for all the links to the courses and training
Tips to cope with stress for aged care staff
A career in aged care can be demanding for frontline staff. Below is a summary of the Australian Ageing Agenda article about stress written by the clinical services director for Access EAP counselling services.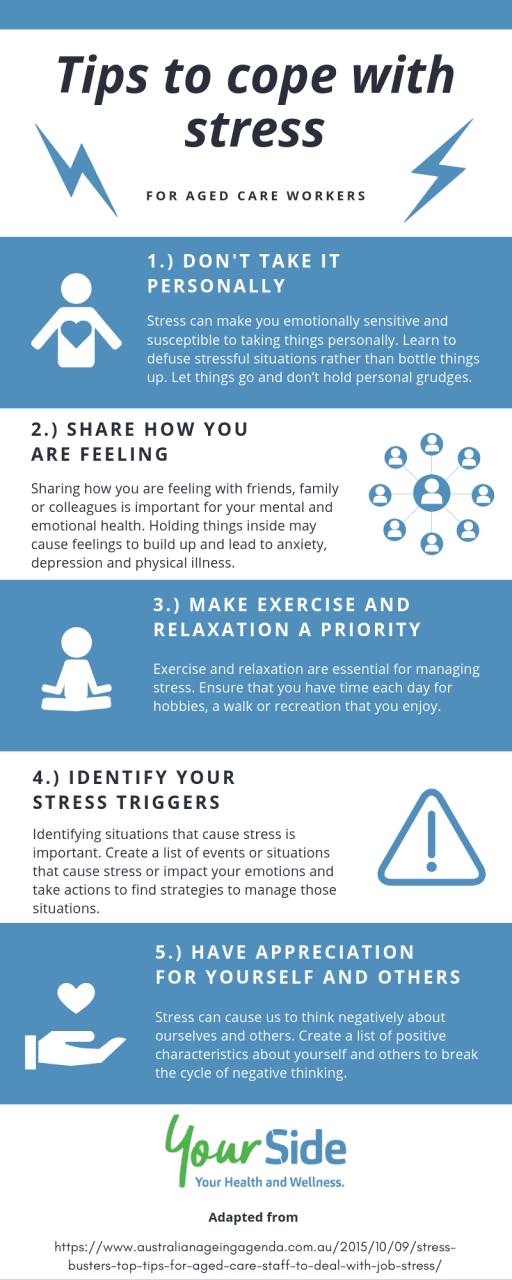 Download a PDF version of the infographic here
There are various resources for aged care employees to cope with stress. Talk to your employer about what is available to you or for more information, you can read the full article here https://www.australianageingagenda.com.au/2015/10/09/stress-busters-top-tips-for-aged-care-staff-to-deal-with-job-stress/